We design and make smart cycle kits at fair prices. To preorder our PikaBoost e-bike conversion kit and make it a reality!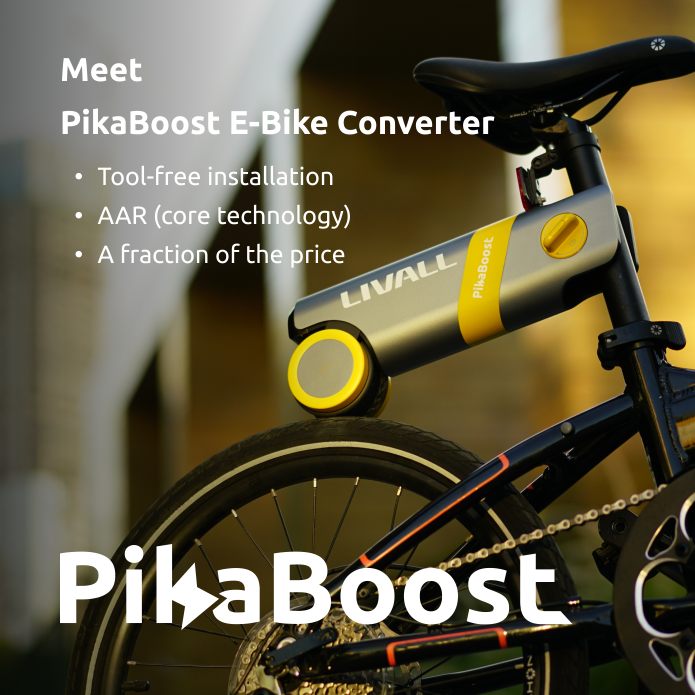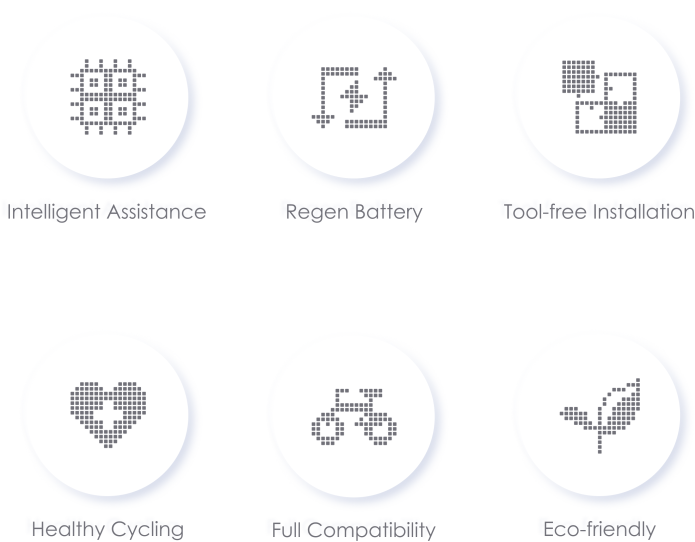 Why Rework Something Typical?
The PikaBoost eBike Converter offers tool-free installation, intelligent assistance, and healthy cycling - at a reasonable price.
Having a controller, motorized hub and battery pack (so-called eBike conversion kit) assembled on your bike, you can turn your old bike into an electric bike for rough terrain and a smoother ride, thus reducing stress on your joints.
Unfortunately, the e-bike conversion kits on the market are insanely expensive and overpriced, and the installation process is complex. If someday you want to feel the cycling experience of riding a regular bike again, the best way is to buy one more regular bike.
We exerted ourselves to develop a better solution, and here comes the PikaBoost. Tool-free installation, intelligent assistance for a healthy ride, and can be sold at a fair and honest price.


PikaBoost uses an all-in-one battery, motor and controller design to ensure the neatest and simplest installation. As such you can quickly mount it between the seat post and the rear wheel with no tools. This also means you can easily switch PikaBoost from one bike to another. It makes it way easier to use PikaBoost on road, shared and rental bikes.
The traditional e-bike conversion kit requires you to disassemble the original parts on your bike, such as the front wheel, to power your bike. Due to the complex and laborious process, once the installation is completed, most people are not inclined to change it back to its original appearance.
Note: The lock structure of PikaBoost contains a clutch. After fixing PikaBoost to the seat post, we need to press it down to the tire when using it.

Our team has put a lot of effort into making the PikaBoost ride-ability on all terrains better. These include integrating a self-locking mechanism to avoid loosening due to vibration, and an elastic mechanism to avoid minor laxity that could cause the product to fall off.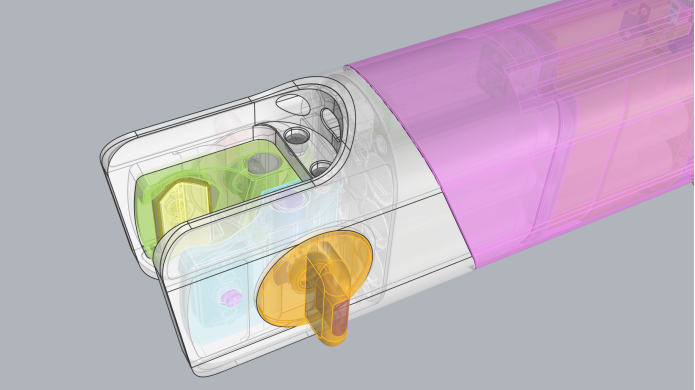 PikaBoost uses the state-of-the-art Automatic Adaptive Rate (AAR) technology to detect the change of terrain and the bicycle speed in real time, and dynamically adjust the motor power without latency. It's quite perfect for people with poor stamina and weak knees for cycling.

 Through deep learning of aircraft inertial navigation principles, PikaBoost can do better than using traditional solutions such as Torque or Cadence PAS sensor or both.
More Advanced Sensors
Almost all other products of conversion kits on the market commonly use switch Hall sensors, because it's much easier to develop and have better versatility. The disadvantage is that it requires cyclists to pedal several cycles to calculate an average speed, and then transfer the speed data to the MCU (microcontroller Unit) for motor power adjustment. In consequence, the response of the motor to the change of speed will be delayed and causes an unpleasant riding experience.
PikaBoost uses a two-axis linear Hall sensor. Although the development is more complex, it can detect the speed of the wheel in real-time, thus providing the MCU with the most timely speed data feedback, so as to obtain real-time motor power adjustment, making the speed matching in cycling more smooth.
In addition, with this kind of sensor, users do not need to install an additional set of sensors at the crank to obtain signals.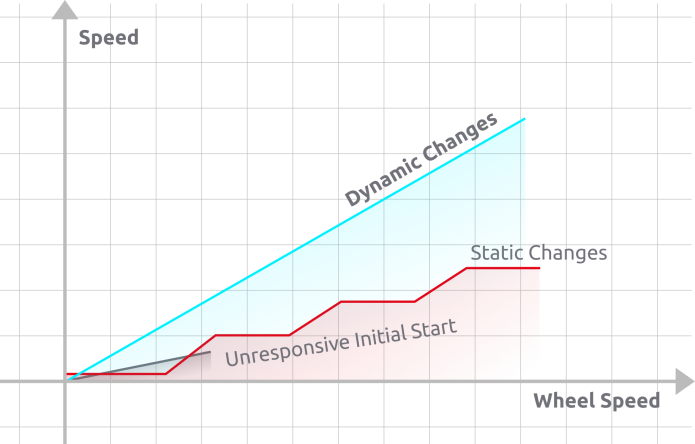 Exclusive Intelligent Attitude Algorithm
 With the built-in two axis linear Hall sensor, Gyroscope, accelerometer and PikaBoost's exclusive attitude algorithm, under the control of MCU, PikaBoost can detect the speed and attitude of the bicycle in real time, judge whether it is cycling uphill, downhill or on the flat road, and whether there is a trend of acceleration or deceleration, and dynamically adjust the output power of the motor for speed matching, so as to provide a smooth transition when the speed changes or keep the bike at a constant riding speed.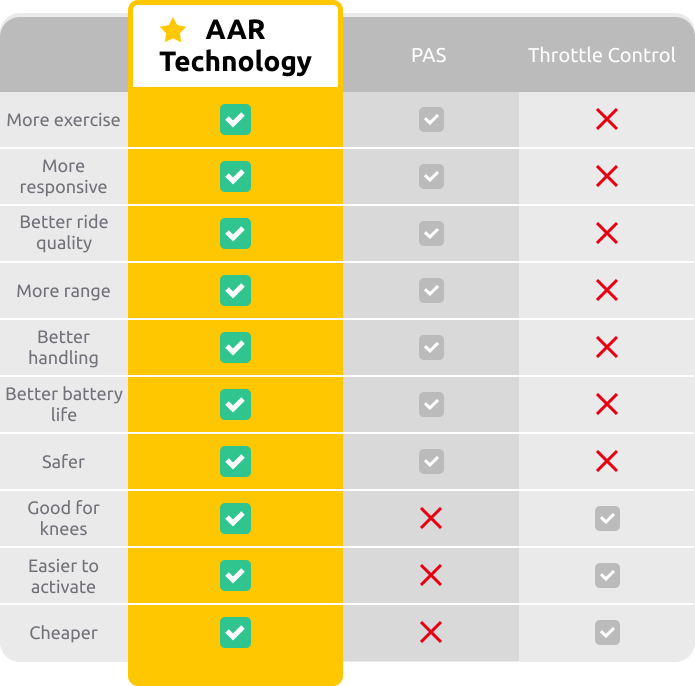 You may wonder how does PikaBoost work exactly, this video demonstrates the PikaBoost working principle in the test environment.

 Climbing uphill is often overtiring. On the one hand, it will significantly exert high pressure on the knees, and on the other hand, it will suddenly increase the physical stress and make the heart rate excessively increase. This is a typical challenge for those who have weak stamina or poor knee joints.
When riding into the uphill section, usually the pedaling speed and strength of the cyclist will naturally gradually decrease (because uphill climbing will become more and more tiring), and PikaBoost will detect that the bike starts to enter the uphill section through the built-in sensors.
In this process, the cyclist can reduce the pedaling force to certain degrees according to his own physical condition, or even not pedal at all.  Based on the cyclist's own human power output, PikaBoost will deliver e-assistance compensation for the insufficient part that climbing uphill needs. So that the cyclist can maintain his regular movement rhythm and physical expenditure when climbing.
Similarly, in long distance cycling, the cyclist can reduce the pedal force when his physical strength is getting weak, and PikaBoost will help to maintain the regular speed by providing the rest power that the regular cycling needs.

 When choosing an e-bike converter, one needs to do plenty of research to figure out which converter is right for your bike model and tires. It' s important because tire types vary from bike to bike, and even the same bike model can not be universal due to differences in wheel sizes.
We designed many mounting options for the PikaBoost and finally settled on the current one. You don't need to change tires or brake discs to adapt the converter, which not only no affects on the bike's original capability, but the mounting solution is not constrained by the bike types, frame and tires, reaching the highest compatibility.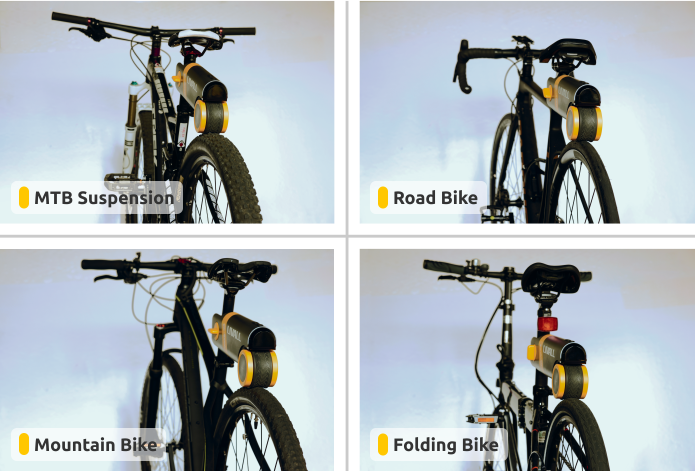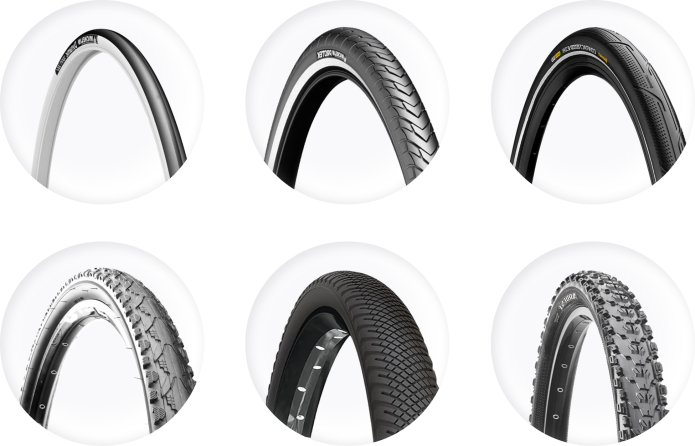 Seeking portability does not mean that we sacrifice the ability of the most important breadbasket (battery). But traditional cheap and bulky lead-acid batteries (VRLA) are definitely not our primary choice.
PikaBoost uses 18 cells of 18650 Lithium batteries (3Ah per cell), forming 199.8Wh battery capacity in this 3kg add-on. At a full load level, the range is up to 30km/18 miles, which rivals that of a bulky e-bike.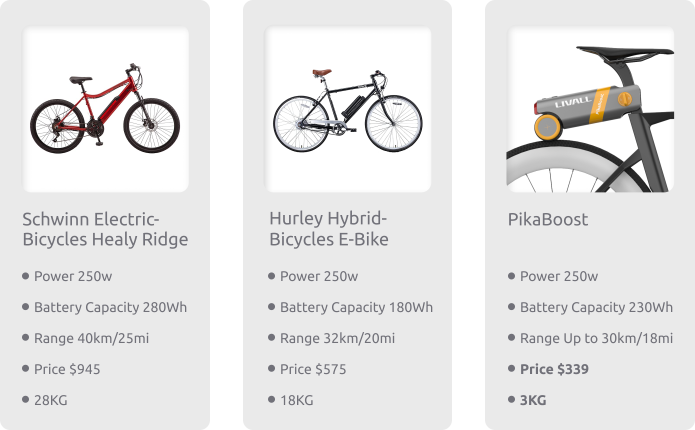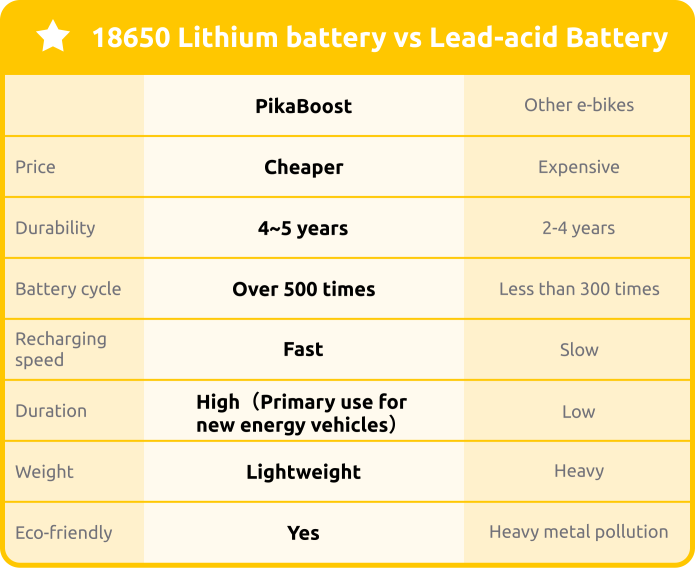 The PikaBoost has a maximum range of 30km under the full electric assistance mode but one of the highlight of PikaBoost is the optimised design of the battery compartment. We have specifically designed the compartment with a modular replaceable 18650 lithium battery to make the PikaBoost better suited to a wider range of models and a variety of riding purposes. Therefore, you can purchase additional battery compartment with spare batteries to double your range and support you on long rides without the need for supplemental installation.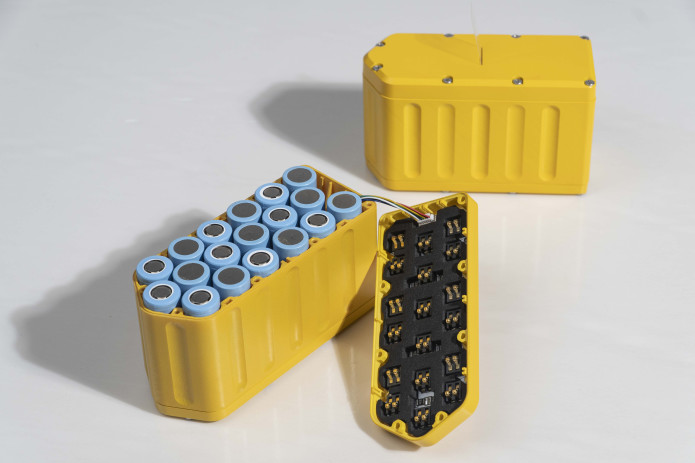 Electric Bicycles can play a major role in combating climate change because e-transportation reduces CO2 emissions at source and lowers your Co2 footprint to achieve a truly low-carbon environment. The intelligent regeneration system fundamentally solves the problem of battery ageing, greatly reducing the number of recharges and minimising energy loss. The intensity of the energy recovery process is gradually adjusted from small to large to avoid sudden slowdowns and frustration during the ride.
With automatic sensing through the internal acceleration sensor, PikaBoost can convert kinetic energy into electricity and hence functions as a power generator. It's the safety net in your long-distance ride and a portable mini power station for your electronic devices.

 Instead of keep switching assistance levels and speed gears, PikaBoost's three riding modes give you full flexibility and allow you to enjoy your rides in a flow state. Three riding modes are designed for people with different physical strengths and different riding needs, you can easily choose your suitable riding mode on the PikaBoost app.

Free Cruise mode is targeting short-distance, commuters because it's the most labor-saving but the most power-consuming. PikaBoost can reduce time spent commuting, reduce your vehicle expenses, and eliminates the chance that you'll arrive a sweaty mess at your office. PikaBoost will always maintain the current riding speed and gradually accelerates to go into full electric riding while reducing speed by detecting the braking mechanism.

For people with relatively poor physical strength, ECO mode is your number one option. It will provide assistance only on uphill terrains and can be used on bumpy roads. PikaBoost will automatically switch off the motor on the downhill and flat roads and enter the regenerative system hence reducing energy consumption.

Even though the PikaBoost is an e-bike booster Exercise mode can also achieve a fitness effect on cycling. PikaBoost will not only provide any assistance but adds extra resistance for the longest duration. PikaBoost acts like a dynamo that can convert kinetic energy into electrical energy thus helping to increase the range which is perfect for long-distance cycling enthusiasts. It can also be used to charge your other electronic devices via the USB socket. In the event that the PikaBoost is low on power, the app will alert you if you need to go into Exercise mode, so you can switch to a power-saving state in time.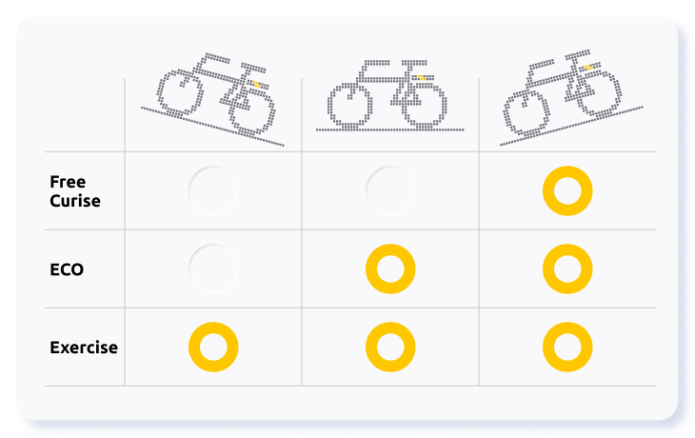 LIVALL sees riding safety as very important and it's our vision and mission to make the rider safer while cycling.

Cycling can build muscle and reduce the risk of major diseases such as heart disease and cancer, but it's worth noting that many studies report irreversible physical damage from long-distance, long-duration rides. PikaBoost's Precision Assist Intelligence system reduces wear and tear on the knees and meniscus by evenly spacing out the output to avoid over-exerting yourself, keeping your heart rate up for long aerobic sessions, labor-saving while maintaining your exercise habits.
PikaBoost booster system reduces knee damage from uphill riding and is friendly to cyclists with low stamina. It's relieving over-exercise and muscle soreness with the aim of making your ride easier, healthier and enjoyable.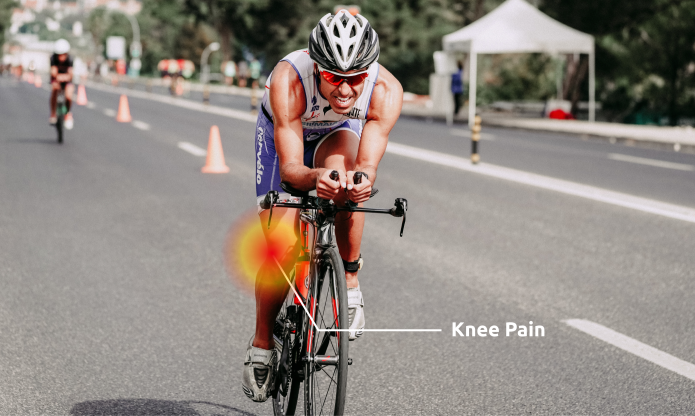 Tool-free and fast Installation of the Brake Sensor
Simply clamp the supplied brake sensor on your bike's handlebar and mount it on the brake lever to detect the braking signal. E-brake allows PikaBoost to cut power to the motor at the moment the brake levers are actuated.
Bicycle brake failure is one of the most likely causes of accidents, especially when riding at high speeds. PikaBoost's e-braking with fully automated control directly reduces the likelihood of accidents. The braking behavior is detected by built-in acceleration sensors and brake sensors, which automatically switch off the motor and immediately stop the power output. The dual detection method greatly prevents brake failure or reduced braking effectiveness.

Fall detection and attitude detection is achieved through a combination of accelerometer and gyroscope technology. Once the tilt angle of the bike is detected to be greater than 45 degrees, PikaBoost will immediately stop the motor output to avoid secondary injuries from falls.

PikaBoost uses acceleration sensors to detect the cycling speed, together with linear Hall sensors to detect the speed of the tires to determine whether the wheels and ground are slipping. PikaBoost switches off the motor and automatically switches to the regenerative system when the bike tire loses traction on road thus causing the bike to skid. PikaBoost will reduce speed and enhance friction between the wheel and the ground to lower the risk of skidding.

PikaBoost's rear light will automatically light up by detecting the bike's brake line to keep you safe during your ride. It generates a striking wide-angle beam with two light types that is visible from several blocks away.



Pikaboost's wheel is made of rubber material that is wear-resistant, durable, and long service life. The wear is less than when the tire touches the ground since only "static friction" occurs during riding.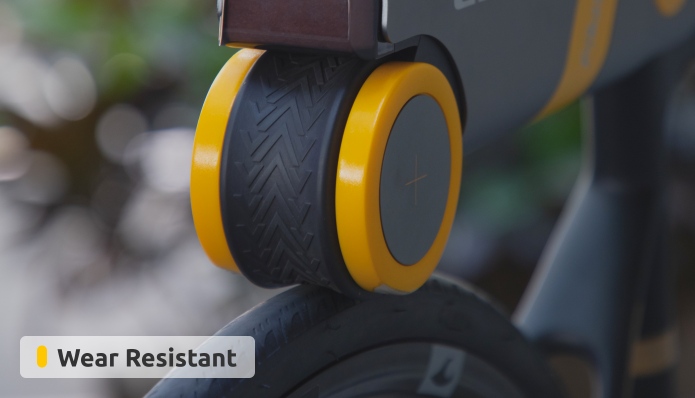 Both battery and motor in PikaBoost are rated IP65 against dust, sand, light rain, and heavy storms so that you can enjoy your rides in any weather conditions.

The engine sound when riding an e-bike can be really disturbing. Electric motors in PikaBoost are more than capable of producing high speeds hence it's extremely quiet even in acceleration.


Bluetooth Lock was developed for Anti-theft purposes. PikaBoost will automatically lock when the Bluetooth signal on your phone is away from PikaBoost to protect against theft. You can also manually lock it by long-pressing the PikaBoost icon in the app.

Electric vehicle laws and terminology for the use of electric pedal-assisted bicycles in every country are diverse. Please be assured that we will strictly adhere to the legal regulations while will simplify everything for you. You can select the region you're in and PikaBoost will auto-adapt including the speed, and electric assistance modes. Also, the PikaBoost application allows you to set the speed by yourself from the range of 0-35kmh/0-21mph.

PikaBoost is designed to be durable and long-lasting so PikaBoost including the locking knob used aluminum alloy for longer durability and for eco-friendly purposes. Aluminum alloy can be recycled and reused without degradation. Also, the mounting part used stainless steel that is resistant to rusting and corrosion.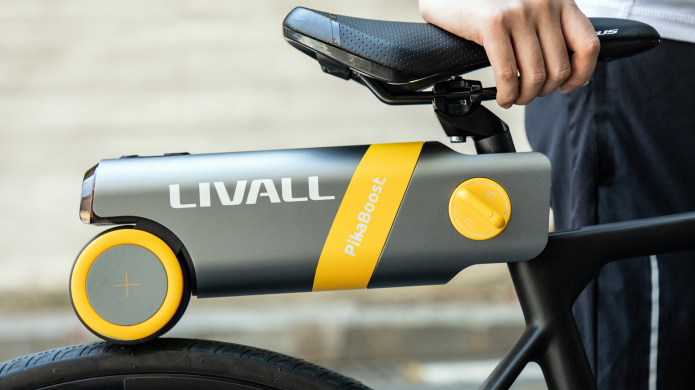 PikaBoost is designed as a day-to-day kit that you are happy to use on daily basis. It's an all-in-one 3kg unit whereas the battery and the motor are integrated for portability purposes. You can simply carry it in your bag, carry it to work, to the gym, or to run errands because it's the lightest e-bike add-on you'll ever have.