Livall BH60SE helmet review
With inbuilt GPS SOS system, LED lights, Bluetooth speakers and a microphone the Livall BH60SE sounds more like a smartphone – but can a helmet really shoehorn all that functionality in without sacrificing comfort and looks?
---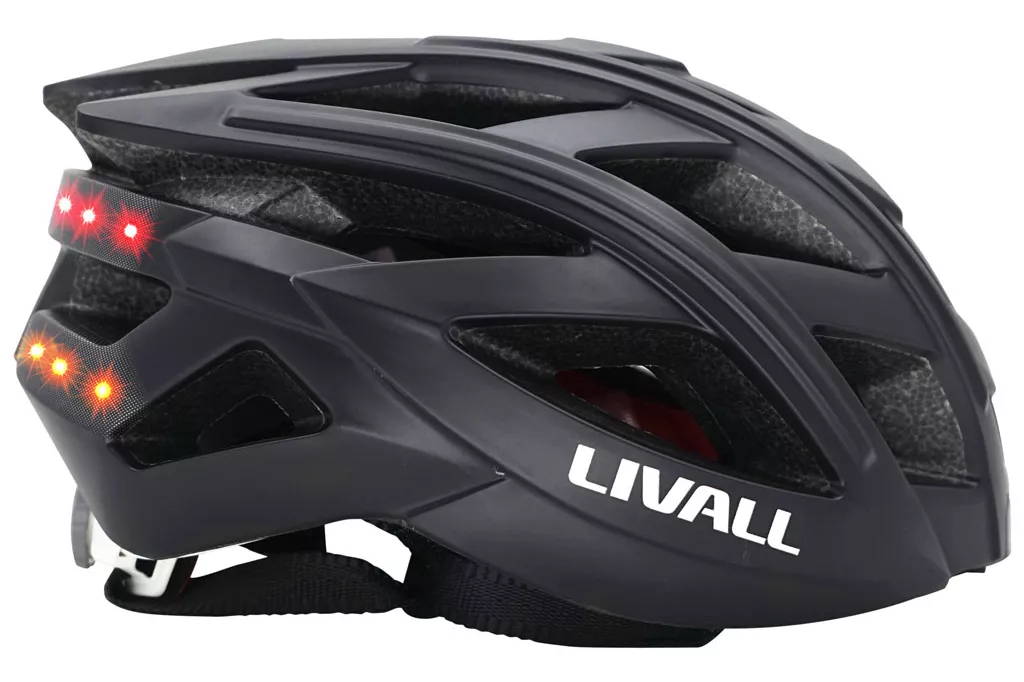 The Livall BH60SE helmet is mindblowingly impressive. It somehow manages to cram everything from an SOS message system to playing your ultimate riding playlist, to super visibility in to one reasonably lightweight, good looking helment for less than £100. If there were more sizes available and didn't rinse phone battery quite as quickly it would be perfect.
Lightweight

SOS system

High visibility

Hands free phone connectivity

Speakers

Walkie-talkie capabilities

Ventilation

Fit

Comfort
One size (55cm-61cm)

Big demand on phone battery

Uses phone internet access so can incur costs/signal limitations.
Working in the world of cycling tech you get to see lovely shiny products on a daily basis: this is both a good and a bad thing. Yay to getting to grips with new kit as soon as it lands, but you can become a bit desensitised so it takes something really special to really turn my head, or, in the case of the Livall BH60SE helmet, show it to all your colleagues, mates, partner, kids, siblings... in fact, anyone I have recently come into contact with is likely to have been told all about it.
CONSTRUCTION AND FUNCTIONS
In terms of the actual helmet it's made from EPS foam (expanded polystyrene), which is more or less what all helmets are made from, and naturally meets the CE and EN1078 safety standards. This EPS foam has been moulded to create 24 vents, a design which Livall says is based on aerodynamics, improves air cooling and reduces wind resistance. It's not too shabby looking by any means and is similar in appearance to the Giro Aeon and Kask Mojito. Weighing just 79g more than the former and 52g more than the latter, the Livall BH60SE helmet keeps the weight pretty low at just 278g – not bad when you consider everything that's on board.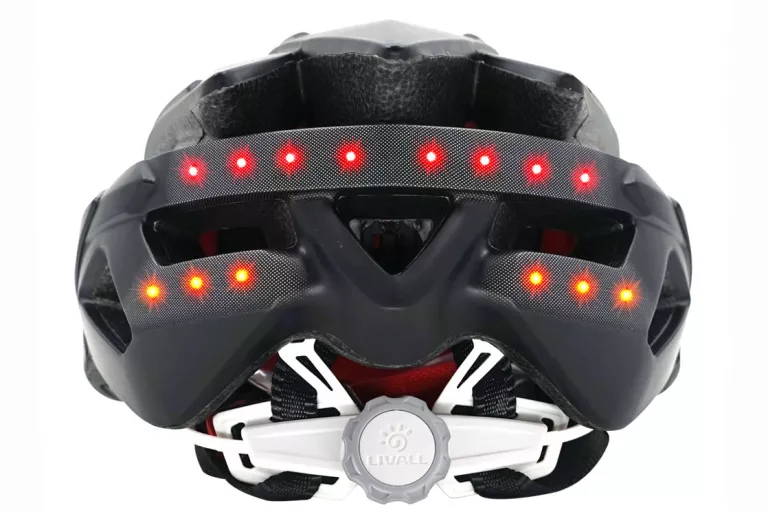 Rear dial retention system allows for on-the-move fit adjustment while LED lights provide side and rear visibility.
The Livall BH60SE helmet also uses similar retention dial retention systems which makes it not only easy to fit but also to adjust using the dial at the rear of the helmet once on the move. The Nylon strapping and padding are a little more robust than is ideal, and it would be great to see these both slimmed down on the next iteration, and additional size options would be welcome too. It's currently one size only (55cm to 61cm), which would make it around about a medium for most helmet brands whereas I normally ride a size small. My head circumference is exactly 55cm, so it does fit and is plenty comfortable enough but it's just a looks thing – if it was possible to still cram everything in to a smaller version then it would be perfect.
So, what's on board? Well, first there's the LED lights. It's hard to see in our pictures how impressive these are: when they are off, there is nothing that alludes to them even being there. When switched on, the red lights flash on the main strip, which reaches enough around the edges to be side visible too. The two helmet sections below are either constant red LEDs or, with the push of a button from your handlebar remote control, an amber indicator. I'm a big fan of combining the flashing and static light system as it seems to draw more attention to your road presence, and although the remote control indicators are a great innovation I wouldn't want to rely solely on drivers understanding your turning intentions.
Then there's the two built-in Bluetooth speakers and windproof microphone system. Once connected up to your smartphone (either Apple or Android) and the Livall app, you can either take calls, listen to music/podcasts etc, all via the simple push of a button on either the helmet (which also has a volume control) or the handlebar remote. There's also a walkie-talkie ability which allows you to talk to your riding buddy if they're also riding a Livall BH60SE helmet – a great feature if you suffer a mechanical and become distanced from the group. You can even get turn-by-turn GPS voice navigation, again if paired with your phone.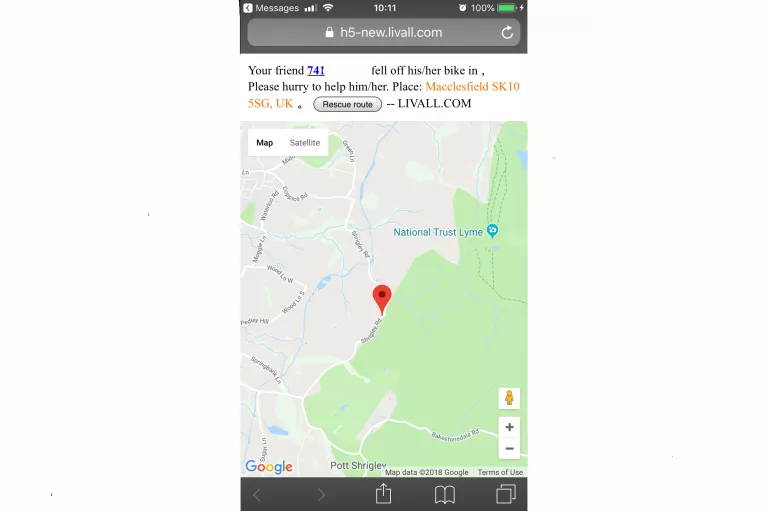 The Livall SOS system sends an instant text message to your nominated emergency contact with a link to your exact GPS location.
But the pièce de résistance for the Livall BH60SE helmet is the SOS function. It works in two ways by either an impact, or a sudden acceleration followed by a stop. It then gives you a 90-second countdown before sending an SOS text message to up to three people letting them know that you've possibly been in an accident and an exact location. You can test the function by throwing the helmet up, catching it then standing still and the details your emergency contact gets are pinpoint accurate (although don't test the feature without informing them first!). Again, you need to have it paired with your phone and have a signal in order for the system to function, so it can incur some costs and isn't always going to be 100 per cent reliable but it's a pretty impressive feature and will give a lot of people peace of mind.
When out and riding it really does feel like any other helmet: I'm so impressed that so much has been squeezed in. I have mixed views about riding with music as I often ride for the peace and quiet, but back in the days when I spent hours on the road training it would have been a much welcomed addition over headphones, although I do worry about sounding a bit like an annoying teen on a train playing tinny music from a phone for all to hear whether they want to or not.
The phonecall function worked incredibly well. Rolling along, the speaker and mic didn't suffer at a all from wind bluster and Livall actually says the microphone is windproofed up to 60kph – although I personally would struggle to speak enough to hold a phone conversation at that speed.
I loved the LEDs – I struggle to ride confidently on the road these days without at least one rear flasher, and having these so neatly integrated is just genius. I'm so impressed with how this design element has been executed.
The one fly in the ointment, however, is battery issues. The Livall BH60SE helmet and remote seem to last a reasonably long time. I've charged the helmet once and the Livall riding app is telling me I probably need to do so again after seven or so hours of riding and playing with all the gadgets. The issue is with phone power, it's draining my iPhone 6 pretty rapidly even just having the app on there. Other phones might fare better, but it's something to consider, especially if you're planning a long ride.
There's still so much more to talk about, like the ride-sharing platform and the instant Strava connectivity or ride playlist ability. The list is apparently endless, as will be this review if I don't draw the line somewhere and finish waxing lyrical about the Livall BH60SE helmet. But one thing I haven't mentioned is cost. When I first heard about the helmet, two thoughts entered my mind: it was either going to be massive, heavy and plasticky or so ridiculously expensive that it priced itself out of the market. At just £99.99 it is obscenely good value. It's easily a £100 helmet without any of the functions, so to get everything at that price is awesome.
---